How do I best make a selection of my limewash paint colours?
Colour Selection made easy with Colour Cards and Sample Pots
3 simple steps to selecting the right colour limewash paint for your project
Step 1
Narrow down your limewash paint colour selection to a few favourite colours


Go to our Colour Lab where you can use our filter to select from a colour group, for instance filter NEUTRAL Colours. You can make a preselection and add them to your favourites.

Tip: Create an account first, that ensures your favourite selection is saved for later, even if you have to log off from your device.
With an account you can also create multiple wish lists and select colours for different rooms or projects.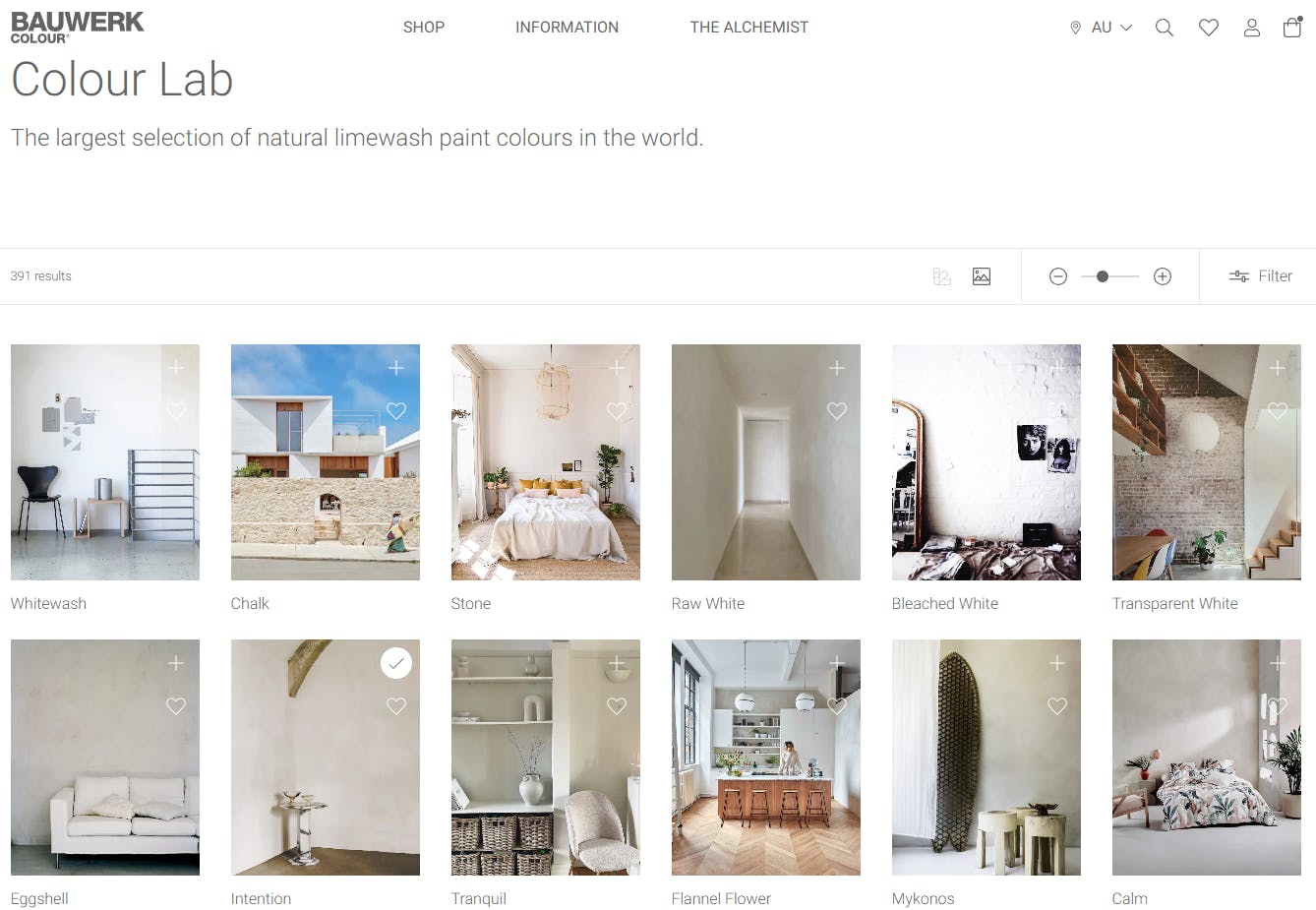 Step 2
Order a selection of Colour Cards


If you are undecided between a few favourite limewash colours you might like to order those as a Colour Card.

BAUWERK Colour Cards are a large size paint (15cm x 10.5cm) swatch that is hand painted with the actual limewash paint. 

Colour Cards are very useful for:

making a pre-selection of possible shades
comparing, mixing and matching colours by laying Colour Cards out next to each other
pinning a selection of colours on the surface you want to paint
discussing your colour selection with partners and clients
creating mood boards
snipping parts off as a reminder
collecting and building up a colour reference library

Colour Cards are the preferred way to select colours by most designers and architects. You can, of course, order duplicates if you have passed on a card to someone else, or have another set sent to the address of your client, for instance.

Read more about how to make the most out of your limewash paint Colour Cards.

Tip: We also offer limewash paint colour Fan Decks (colour swatches) and our most comprehensive Master Set Colour Book



Step 3
Order Sample Pots for final colour decision


If you need to make sure the limewash colour is absolutely right for your project then Sample Pots are an important part of deciding a specific colour.

We recommend to order a Sample Pot if:
you need to decide between two very similar shades of colour
you want to test colour appearance on a sample panel at the project location
you want to establish a more accurate consumption estimate on the particular surface you are painting
a close colour match to another decorating item is desired
you do murals or similar designs where only smaller amount of a particular colour are needed
you just want to have fun and play with colours


You don't need a sample pot if:

you are already sure of the colour you want to paint
a slight colour variation is of lesser concern to you
you re-order paint that you know of from previous applications


Tip: For some internal surfaces you may need to order Bauwerk Prep Coat. We also recommend to apply samples with one of our special limewash Paint Brushes.